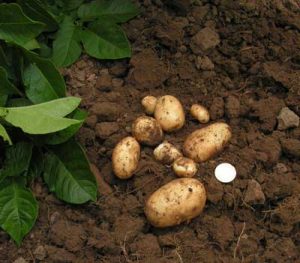 Today The Chef harvested the first new potatoes on The Plot.  This is the first produce taken from The Plot, since The Plot was created on 16 March 2013.  On that day The Chef dug up his lawn to create a veg patch.  It has taken 3 months, but it has been worth waiting for!
The Maris Bard potato seed was planted on 2nd April.  The biggest potatoes harvested are about the size of a duck egg.  The photo has a 2 pound coin beside the new potatoes to show the actual size.
The Chef said " Poor yield but excellent flavour.  The poor yield was not unexpected.  The number of tubers was poor.  There were only two or three on the largest potato plant.  This was probably due to too much apical dominance on the chitted seed."
A new vegetable garden takes up a lot of time and is very hard work.  But now the first new potatoes have been dug on The Plot it all seems worth while!