The photo below shows how the Plot is producing.
Three months after the Chef dug up his lawn he has a fantastic, promising vegetable garden.
The small seed leaves, (called cotyledons), seen at the front of the picture are a row of parsnips, which were sown on 1st June. The Chef said " The parsnips were a bit late sown, but I hope they make it."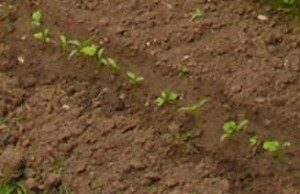 Behind the parsnips are the carrots. The Chef chose to plant the carrot variety called Nandor and they were sown 6 weeks ago.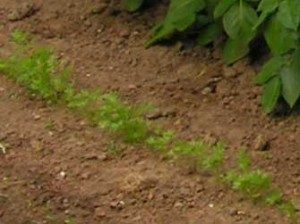 At the end of the carrot row is the bean tripod made out of bamboo canes. The climbing beans are starting to twist round the canes.
The potatoes look very healthy but the Chef is disappointed in the yield of Maris Bard potatoes. He has decided to harvest them all now, or at least, he will dig them as fast as he can eat them. They are a good size (and very tasty) but there are not many new potatoes on each root.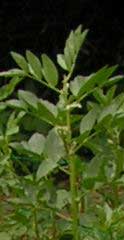 The broad beans can be seen, staked behind the potatoes. The tops of the beans have been pinched out to prevent blackfly infesting the plants.
Right at the back of the photo of the plot are the onions. These were some of the first veg to be planted and it will soon be time to lift them.
Six different vegetables are growing well in the Plot. The Chef will have plenty of variety in the kitchen from the produce of his Plot.