The Chef sent an update on his Plot dated 30 June. Everything is growing well – with a good variety of vegetables in the garden.
potatoes – another root was dug today, with six new potatoes on it.  One had to be cut in half, not a bad problem, but a new potato should be just big enough to go on the fork to be eaten in one mouthful, any bigger and it is not a new potato. Today's Maris Bard potatoes still had a great flavour and texture.  The maincrop potatoes are looking good, and have more stems on than the earlies, indicating a higher yield.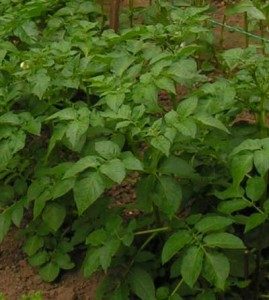 parsnips – are growing their first true leaves, they already have the seed leaves.
beetroot – is growing rapidly. One or two of the smaller leaves cheer up salads.
broad beans – the 2nd planting of  broad beans (Meteor planted 6 weeks ago) have not got as many flowers on as the Express Broad Beans sown in March.  So they will not be so productive.
carrots & onions – are both growing well
The soil where the new potatoes are being dug is in much better condition than when the potatoes were planted.  Potatoes have a reputation for being a good "soil conditioner" and are a good crop to grow in a new garden.  The soil will be much easier to work next spring after this crop of potatoes.
The Chef is thinking about planting some leeks in the gap left by the early potatoes.  If he can find some leek plants in a garden center they can be planted in the garden where he has dug the new potatoes, and the leeks will be ready in the winter.
The Chef dug up his lawn at the beginning of March.  This update on 30 June shows that in 4 months the Chef has produced some new potatoes and has a range of other vegetables growing in his Plot.