The Chef has planted leeks on the Plot following early potatoes.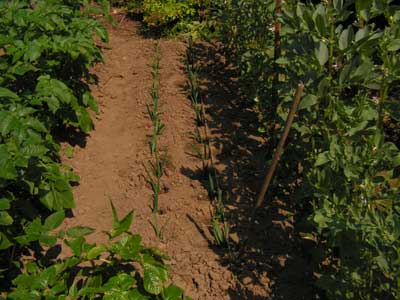 The seed potatoes planted on 2nd April have produced delicious new potatoes which have been lifted from the Plot and eaten.  In their place the Chef has planted some leeks.
The leek plants were grown in a seedbed by TopVeg!  The plants are about the diameter of a pencil, which is the perfect size for planting out.
the leeks are trimmed at the top (leaves) and the bottom (roots).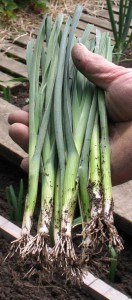 the leeks were planted  23-25cm (9-10in) apart in the row with 45cm (18in) between rows
the Chef used a trowel to make a hole 15cm (6in) deep at each planting station
he then dropped the plants in the hole – but he did NOT  fill the hole in with soil
he filled the holes with water

leeks dropped in hole
These leeks planted following new potatoes will be ready for the Chef to use throughout the winter