The Chef has dug some more early potatoes on the plot. He sent a photo with the caption "Two roots of spuds.Not a good yield"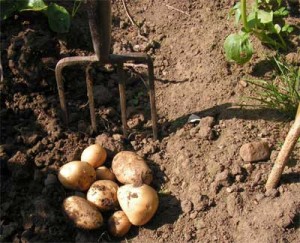 At least the plot has produced some potatoes – the first crop after digging up the lawn.  Next year should be much more productive as the soil will be improved by the root activity in the soil and by the vegetation being returned to the soil.
The main crop potatoes look very healthy but the Chef is leaving them to grow some more & "bulk up".  The new potatoes in the photo  have grown a lot in the last week and are much bigger.There are still two more roots of early potatoes to dig.