Horseradish (Latin name – Armoracia rusticana)
Horseradish is a perennial, so should be given a lifetime position in the garden, as it will stay in that place for ever. Horseradish is very vigorous & tends to take over, so it is often grown in a deep container, like a big bucket or a barrel. Horseradish is grown for the strong flavoured roots.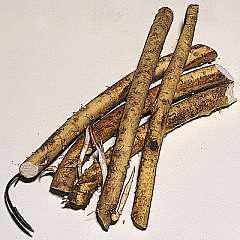 Horseradish prefers full sun, although it will grow in shaded areas, but slower.
Planting Horseradish
plant in late autumn or early spring

plant the root immediately, do not leave it about so that it dries out

dig the ground well and deeply.

Make a hole for the root to go in

Drop the root into the hole at a 45 degree angle, so that one end of the root is near the surface. Gently firm the soil down

Water the roots in well.
Using Horseradish
Dig the horseradish roots up as required. The roots should be the size & shape of a parsnip. Always leave a small piece of root in the soil so that it can regrow.

The flavour is best if they are left until after the first frost

Wash & peel the root before grating it for use.

The grated horseradish is stirred into cream & eaten with roast beef or cold fish
We have an eBook  on sale now which explains how to plant a herb garden or grow your own herbs for cooking.