Parsley has grown well in this mild winter and it is worth clipping for freezing, to save it being lost in the frost.
To freeze parsley:
Cut off the outer stems
Discard any shoots that are not perfect – they must be green and young
Wash well under cold water
Shake dry
Place in a freezer bag & seal
Label 'parsley'
Put in freezer to freeze
Crush bag when frozen, then fine, chopped parsley will come out of the crushed bag
Just take the amount required from the bag & place the remainder back in the freezer
Use as a garnish, or in soups, sauces or casseroles – no need to defrost first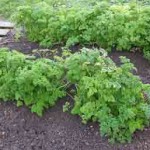 Parsley features in the How To Grow Culinary Herbs  ebook produced by TopVeg and FarmingFriends.
The ebook  explains how to plant a herb garden or grow your own herbs for cooking.  To buy the How To Grow Herbs For Cooking eBook for yourself or as a gift for £4.00 please click the buy-now button:



Freezing parsley now will preserve it for the winter.  Frozen parsley is easily crushed to form small pieces; an ideal way to get chopped parsley!