Raspberries are best grown from bare root canes in the autumn. Always  buy virus-free stock.
Most soils are suitable for raspberries, but the best soil is:
* slightly acid
* not too heavy
* rich in organic matter
* well drained
The site for the raspberry canes should be:
* sheltered from high winds
* in full sun, but partial shade is acceptable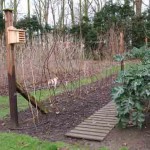 Raspberries need stout support, which should be in place before planting  begins.
To prepare the planting site for raspberries:
* remove all weeds
* dig a row 30cm (1ft) deep by 0.5m (1.5ft) wide, month before planting
* work in as much well rotted compost or Farm Yard Manure as possible( a bucket full every yard)
* firm the row down before planting.
* where more than one row is being planted, allow 1.7m (5ft) between  rows in order to let the roots spread freely and give room for you to harvest the crop in summer.
To Plant Raspberry Canes:
* the old soil mark on the stem should be at the same level as the  ground after planting.
* dig a shallow hole, about 30cm (1ft) wide and 8cm (3in) deep.   Spread out the roots and cover with soil, firming as you go.
* plant canes 40cm (16in) apart.
* cut canes down to 30cm (1ft) above the soil, pruning above a bud.
* water well.
* keep the site weed free
After planting, in the spring:
* when new growth appears from the ground, cut the old cane back to  ground level.
* tie in the new stems to the supporting wires as they grow.
* scatter general purpose granular fertiliser over the soil and  mulch with well-rotted farmyard manure.
* keep plants damp.
Planting a row of raspberry canes is a good investment as they will produce soft fruit for many years.