Farming Friends & TopVeg have collaborated to create a How To Grow Thyme card.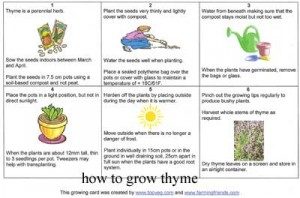 The card may be pinned to the potting shed wall as a useful reference on how to grow thyme.
Thyme is a short culinary herb which :
grows about 10-25cm high
has a trailing habit
spreads a good 30cm
is good at the edge of a container because of its trailing habit
We hope all vegetable gardeners will find the growing card useful, as  thyme is a great herb for the  vegetable garden and useful in the kitchen.
If you would like a pdf of  the grow card for How to Grow Thyme, please contact us asking for the grow card for thyme and we will email it to you.
Thyme is included in the How to Grow Culinary Herbs ebook written by TopVeg & Farming Friends which costs £4.
Click this link to buy a copy of the ebook How to Grow Culinary Herbs