The new summer fruiting raspberry canes have arrived & we are still preparing the supports.
Raspberries become very heavy when they are in full leaf & covered in rain, so the supports have to be firmly fixed in the ground.
They say that there should be one third of the post below ground and two thirds above – so a big hole is necessary!
It is worth spending some time getting the post straight, as it is more likely to stay up if it is straight – & you will be looking at it for many years!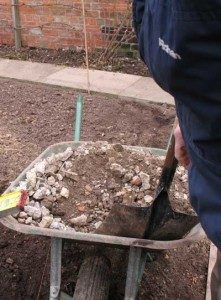 Place some stoney material in the bottom of the hole.
Then firm the stones well down.  It is important to firm down a shallow layer, before covering with another layer, & then firming that down.
An old fashioned thumper is ideal to firm the material around the post.
Cover the stones with the soil that originally came out of the hole.  Thump down each shallow layer.  Try to return all the soil taken out of the hole back into the hole.  That pressed down will keep the post tight.
Preparing the supports for the raspberries is a long, hard job but well worth the effort as it will help the raspberries to grow well for many years.