Red and White Currants make a very special jelly which is used as a glaze in fruit flans &  an accompaniment for meat dishes.  Red & white currants are not as vigorous as blackcurrants.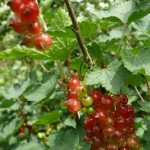 Site
A sheltered spot
Sunny, although will cope with partial shade.
Avoid frost pockets.
Soil
Prefer rich soil but any well drained soil will do. Digging in well rotted farm yard manure, leaf mould or compost, will produce higher yields.
Avoid dry ground.
Do not like acid soil. Add lime if necessary.
Clear the soil of all weed roots.
Plant
Buy bushes from a reputable nursery
Any time between November and March, when the ground is frost free.
5 m apart
In a large hole is big enough to hold the roots spaced out. Cover the roots with soil so that the main stem is above ground level and the soil is at the same level as it was previously (there will be a slight mark on the stem). Firm the soil down well.
Then cut back the stems to half their length.
Cultivation
Fertilise in February with 3 handfuls of general fertiliser at the base of the plant
Mulch thickly (about 8 cm) in late March to retain soil moisture and to prevent weed growth
Remove weeds as they appear.
In April apply a handful of sulphate of potash fertiliser.
Water well in dry times
In winter, when leaves have fallen, cut out to ground level all the spindly, weak branches & any old branches. Try to thin out the centre so that it does not get overcrowded, but leave two thirds of the branches in place.
Protect the fruit from birds with netting. Net in winter if bullfinches are around as they will eat the buds.
Harvest
July to August
Cut the strings of berries off when the berries are ripe. A fork will pull the berries off if run down the string which is held tight at one end.
Pests and Diseases